FLORIDA DMV PERMIT TEST
If you are going to apply for a driving license for the first time in Florida, you have to complete a permit test. Our online permit test has been approved by the Florida State DMV and passing it would enable you to apply for a Class E License. The contents of the course cover road safety and laws you would have to follow in Florida roads. Other common names for this course include Florida Learners Permit Test, DMV Permit Test, Florida Driving Test and Florida Drivers Permit Test.
TAKE IT ONLINE AND RELAX
You don't have to go to the DHSMV office to take the test. You can literally attempt the test anywhere, as long as you have a computer with an internet connection. Applicants of ages 15, 16 and 17 years are allowed to take the test online. You can avoid the stress of taking the test in a new location and take it at home instead. We help you complete the course and also send the results of your test to the DHSMV.
Our courses are approved by the state authority. What's more, every person who signs up for our course will receive a 50 practice test absolutely free of cost. The test is made up of questions which have been asked in previous exams for driver's license permit course. By practicing with those questions, you get the best preparation possible.
ONLINE PERMIT TEST DETAILS
You have to complete the Drug & Alcohol Course before you can attempt the learner's license exam. The exam consists of two separate written tests and can be taken online. There are 20 questions each on driving laws and road signs. You have to get at least 15 questions right on each test to pass. Keep in mind you have to get 15 right on each test, not a combined total of 30. In case you get 15 right on one test and fail the other, you will only have to attempt the one you failed. You have 3 chances to clear the exam online. The fourth and all subsequent attempts, should you need any, have to be at the DHSMV.
REQUIRED TESTS AT THE DMV
The online permit test is just second part of the process. Once you have completed it, you have to visit the DMV for taking couple of other tests. All first-time drivers Florida have to take these tests and pass each one. If a person wishes to get a Florida driver's permit and already has a license from another state, he/she need to take and pass only these tests.
Hearing – The first test is for your hearing. Applicants with partial or total deafness or any other hearing impairment are required to have an extra rearview mirror. It is attached to the exterior of the car, on the left side. They may also be required to wear a hearing aid.
Vision – The second test is for eyesight. An eye machine is installed in every license office. Applicants who get a reading worse than 20/40 are required to see an eye specialist. There aren't any special requirements for color blind people.
APPLYING FOR OPERATOR'S LICENSE
You have to be minimum 16 years old to apply for a Florida intermediate license. You will receive a Class E driver's license at that time. You will be upgraded to an operator's license, if
You have held the Florida learner'spermit for a year.
You don't have any traffic violations on your record during the above said period.
Your parent or guardian will be asked if you have driven the car for at least 50 hours, including 10 hours at night.
The final test is for checking how well you drive. An examiner will judge your control over the vehicle as well as your knowledge of traffic rules and signs.
SIGN UP FOR PERMIT TEST ONLY



If you have taken the drug and alcohol test from some other online drivers ed provider (or) successfully completed the drug and alcohol test course from us & want to take your Florida Permit Test Online alone, you can enroll for it.
FLORIDA DRIVERS HANDBOOK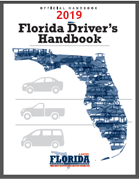 When studying for your exam, the Florida Drivers' Handbook is your best source. In the exam, there are two tests consisting of 20 multiple choice questions each. The first test covers road signs and the second one is about traffic laws and regulations. You need to get a minimum of 15 questions right on both tests.
DOCUMENTS NEEDED AT THE DMV


You have to take your birth certificate or your United States Passport with you to prove your identity. You cannot bring a copy of your birth certificate. In case you don't have the original, you are allowed to bring a copy certified by the state of your birth.
You also need to show your Social Security Number for which you will need to take your original social security card. The other option is taking your W-2, providing it shows the SS number.
Take any of your utility bills to verify your residential address.
The Parent/Guardian On-line Test Proctoring Form signed under supervision of the driving test examiner. If parent/guardian isn't accompanying, the form has to be notarized.
The Parental Consent Form - Minor Driver Applicant Form for drivers aged 18 years and under who are unmarried. The form has to be signed by a parent or legal guardian. Step-parents can only sign the form if they have adopted the driver legally.