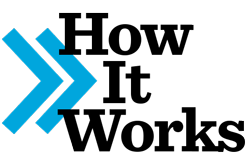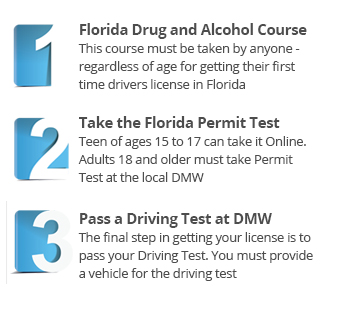 What is the minimum age requirement for the Learner's Permit course?
The Florida Department of Motor Vehicles (DMV) has stipulated a minimum age of 14 years for signing up for the learner permit course. However, you cannot apply for a valid Florida Learners Permit untill your turn 15.
Can I find the course / test materials online?
For the students' convenience, we have made all the materials for the Drug & Alcohol Course, Florida Permit Test and DMV Practice Test available online.
What are the criteria for applying for a Florida Driving Permit?
To receive your Florida Drivers Permit:
The applicant has to be of the minimum age (15 years)
Cleared the Traffic Law and Substance Abuse Education/Drug and Alcohol Course
Should have completed the Florida Permit Test & cleared the Vision and Hearing Test.
Has the Florida DMV Approved the Drug & Alcohol Test Course?
Our Drug & Alcohol course is approved and recognized by the Florida DMV as well as the Online Florida Permit Test. The Drug and Alcohol course is also some times called as D. A. T. A. Test Course or the Traffic Law and Substance Abuse Education course.
Is my School Attendance record relevant to my driving privileges?
The law in Florida clearly states that any person who had at least 15 unauthorized absences/leaves out of 90 calendar days is ineligible for driving privileges.
Can I access the course or test anytime?
Yes, our course and test has been designed to allow students to complete it at their convenience. You can log in at any time of the day or night for any length of time to study. It is up to you to decide how much you want to study on any given day.
When do I receive the Certificate of Completion?
Once you have completed your course, we will inform the Florida DMV about it. Generally, it doesn't take more than a day to complete the process. You can also purchase your own copy of your Certificate of Completion when signing up.
Where do I post/ask questions regarding the course or test?
You can call or send an email to our Customer Support department. We offer 24/7 assistance, 365 days a year. You can ask anything you are confused or unclear about.
FREE 50-QUESTION PRACTICE TEST

When you take our online Drug and Alcohol Course, you'll also get a free 50-question DMV Practice Test that will help you prepare to pass your permit exam. The practice test can be used as a study guide, which lets you view the questions with the correct answer, or it can be used to generate test questions to simulate your permit test. Either way you use them, DMV Practice Tests are very useful tools that help you pass the real thing in first try.
ZERO TOLERANCE FOR DUI

The minimum limit of blood alcohol for drivers under 21 years of age is 0.02%. If their level is found to be greater than this, their license would be suspended right away for a period of six months. The suspension is for the first offense. The next time a driver is caught committing the same offense would lead to a full year's suspension of driving privileges. If the driver refuses to be tested, the suspension would be for twelve months. Subsequent refusal would lead to a suspension of 18 months.
CONTACT SUPPORT ANY TIME

Our friendly and professional US-based Customer Support Representatives are available around-the-clock to answers any questions you may have about the Drug and Alcohol Test or Florida Permit Test course.